de
Vuono
---
Born and raised in Chicago, ballet was deVuono's first love. The influence costumes had on her led to her passion for headdresses. Her millinery skills developed costuming for dance and theatre companies. This was followed by numerous private commissions.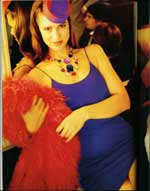 (click pictures for enlarged view)
deVuono's hats first came to national prominence in the Vogue 1988 holiday issue. Subsequently, she and her work have been showcased in numerous publications, including Women's Wear Daily and Fiberarts Design Book Six.
Celebrating the tradition of a hat for the races, deVuono has been a featured artist at the Hats and Hpnotq show at The Kentucky Museum of Art and Craft since 2003. This Louisville show opens the Triple Crown season a month before the Kentucky Derby every year.
Ms. deVuono's work has also shown in galleries as wearable art. She revels in the long, complex tradition that surrounds the art of millinery and sees a performance potential with these pieces. Like the telling of stories passed down through generations, each time one is worn the narrative changes.
Superbly crafted, deVuono hats exhibit the highest level of handiwork and embody a sculptural sense of form. Fine examples of her work can be seen across the United States.
In addition to hat making, Ms. deVuono continues to teach ballet and is delighted to be on the faculty at eXit SPACE School of Dance and DANCE CONSERVATORY Seattle.